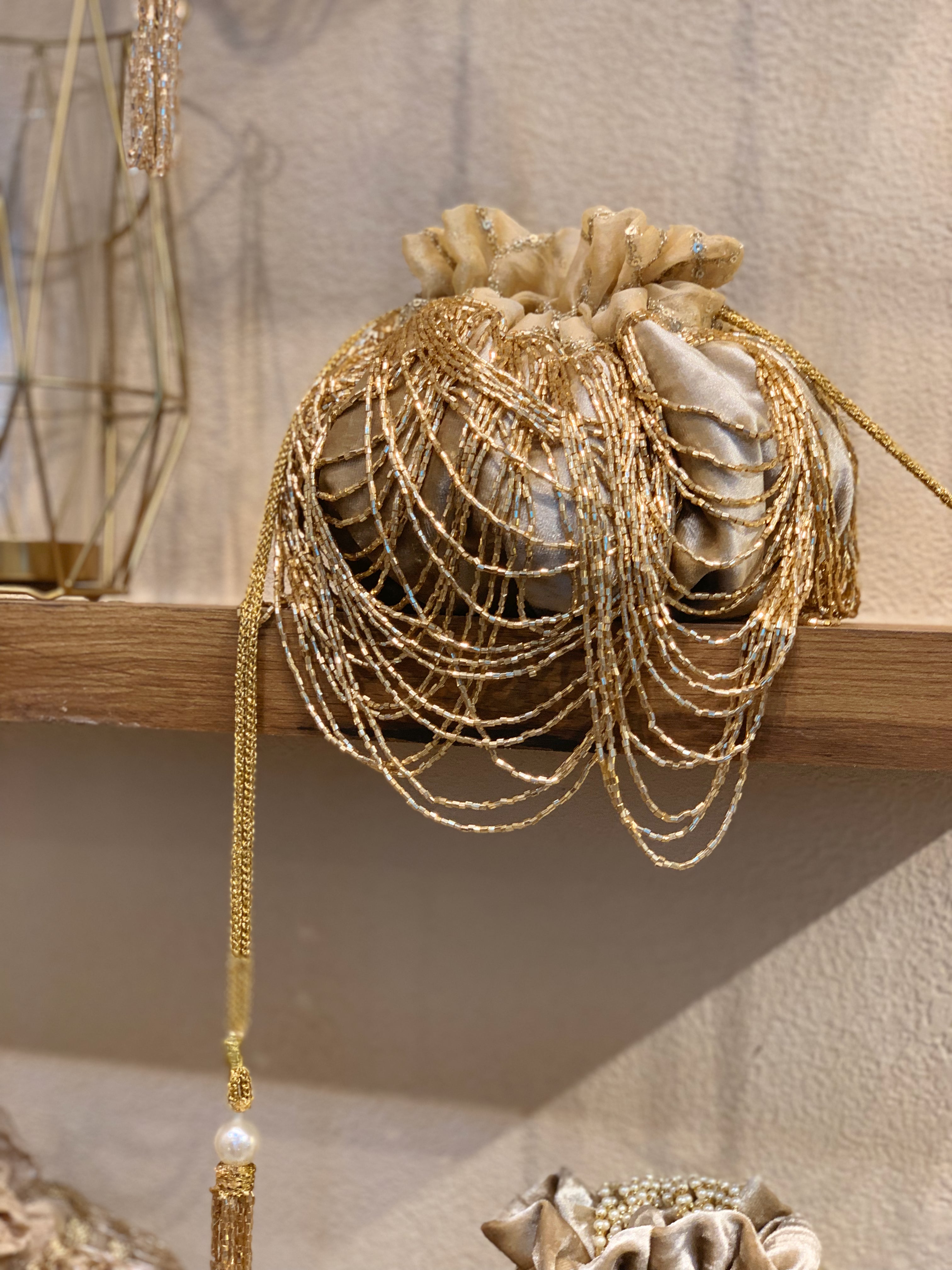 The Perfect Golden Potli Bag
Outfit – Check
Jewellery – Check
Hairstyle – Check
Make-up – Check
Feeling incomplete? What's missing? Only the perfect bag to take your look from "so glam" to "oh damn!"
As correctly quoted by a very wise woman " life is too short to carry a boring bag", let us help you make that perfect choice with our top favourite potlis and bags in the most requested GOLD color!
1 . Sunday Dates with Girlfriends
Heading out with the girls for a lunch/movie date with drinks after? Let's get you something thats pretty for the day AND glam for the night. Sling bags are the most comfortable to carry all your night out/ movie night essentials like money , cards , phone and lipstick for regular touch up. We recommend our most loved Cleopatra gold sling with falling tassels that sway with you. Go handsfree with the metallic sling! This goes best with your western and contemporary outfits. 
2 . Cocktail nights
Our wave minaudière is a substitute for an evening bag which is aptly suitable for a cocktail night or a formal party. This small compact bag is perfectly sized for your necessaries. Coming in a pretty sleek shell this bag makes a perfect match for your gowns and dresses. Don't miss the beautiful hand embroidered handle which adds to its elegance!
3. Mehendi/Haldi
Sometimes you just want to be in the moment but nothing extra. These bags are just perfect for such moods. With their beautiful fabric they give you the apt amount of sheen needed with colours and bling to your ethnic, western as well as contemporary outfits. Make sure you have these in your closet to look picture perfect through every wedding bell.
4. Bridesmaids special
Why to wait for the last minute to decide what to get for your Bridesmaids. Özel's Cleopatra Tassels Potli, Dragon's Nest and Luxe Shimmers are the perfect gifts for them. These golds would look as pretty and rich as your gold jewellery and will surely make your bridesmaids feel special forever. Also, no more waiting for who's going to wear what because guess what, these go with everything <3